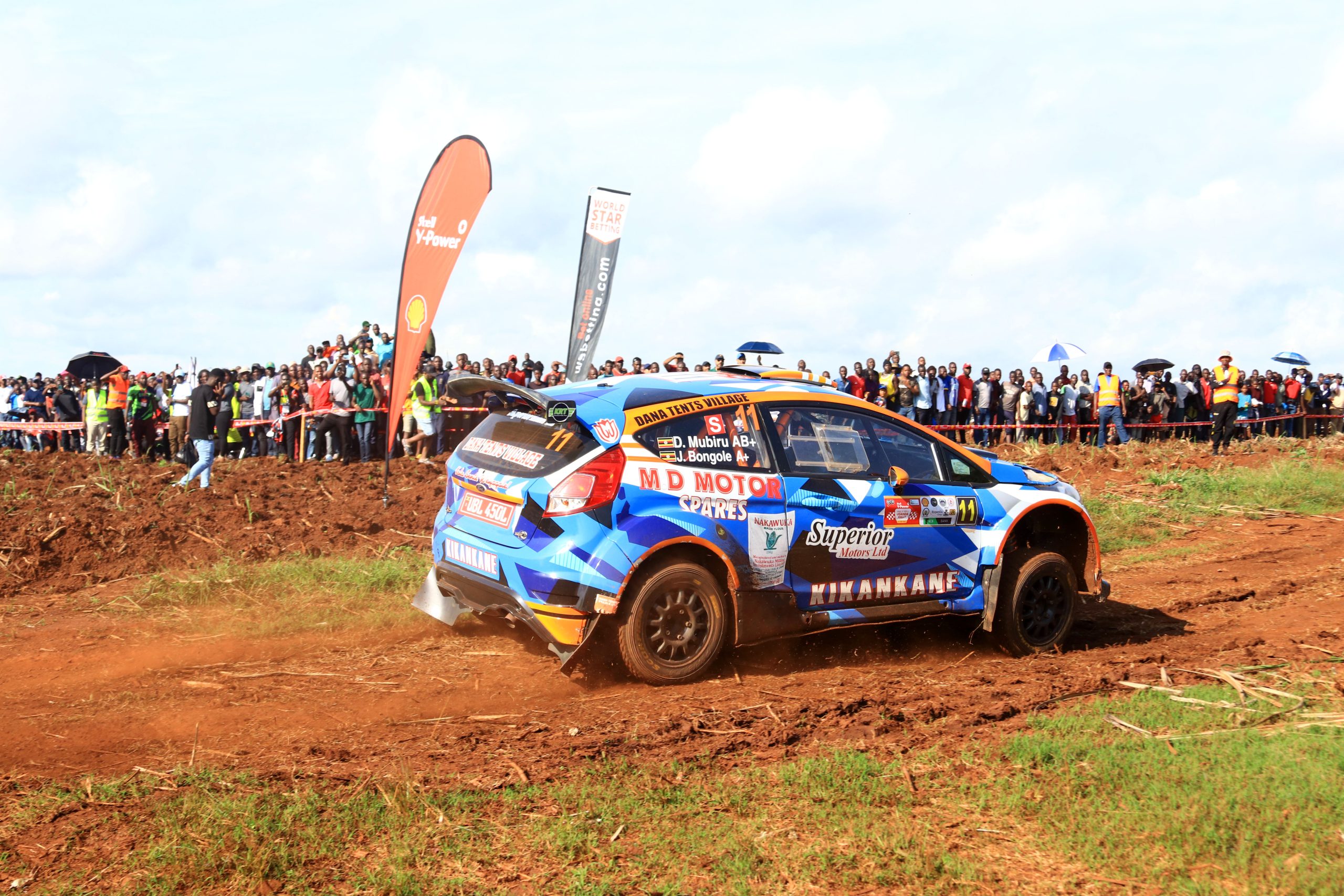 Duncan Mubiru / Joseph Bongole (Ford Fiesta Proto)
2:30:54
Byron RUGOMOKA / Hakim Mawanda (Mitsubishi EvoX)
2:32:30
Yasin Nasser / Ali Katumba (Ford Fiesta R5)
2:39:54
Alwi Hassan/ Hussien Mukuye (Subaru N14)
2:45:21
Jas Mangat / Joseph Kamya (Mitsubishi Evo X)
2:45:25
Oascar Ntambi/ Muhammed Asuman (Toyota Alteza)
2:52:46
Ibrahim Lubega / Mustapha Kanakulya (Toyota Corolla Fx)
3:02:23
Umar Kakyama / Robert Katabalwa (Ford Fiesta) 3:16:34
Abasi Mayinja / Geofrey Sserwoga (Subaru N10) 3:16:46
Isaac Ssozi/ Jackson Sserwanga (Subaru Impreza)
3:21:16
Fred Kitaka/ Mildred Kibuuka (Subaru N10)
3:21:16:45
Mansoor Lubega/ Arthur Lugoloobi (Toyota Trueno)
3:21:45
Rashid Makumbi/ Yusuf Babu (Mitsubishi Evo X)
3:25:12
Mustapha Mukasa/ Lawrence Mwambazi (Subaru Impreza)
3:28:33
Muzamir Watolya/Kevin Lubambula (Subaru Impreza)
3:34:23
Peter Kalule/ John Bosco Musisi (Subaru XV)
3:36:47
Innocent Bwamika/ Hamza Lwanga (Mitsubishi Evo 9)
3:38:58
Nasser Mutebi/ Shakira Nabwami (Mitsubishi Evo 9)
3:43:22
Dauda Umar/ Steven Bunya (Mitsubishi Evo 6)
3:43:22:98
Nasser Ratib/ Gilbert Waluggyo (Toyota Corolla FX)
4:17:08
Edward Kirumira/ Gloria Nantongo (Toyota Corona)
4:18:16
NRC STANDINGS AFTER TWO ROUNDS
Yasin Nasser – 198 pts
Duncan Mubiru 173
Byron Rugomoka 160
Hassan Alwi 113
At the eighth time of participation, Duncan 'Kikankane' Mubiru finally
becomes Shell v-Power Pearl of Africa Uganda Rally (POAUR) overall
winner. The Ford Fiesta Proto driver with Joseph Bongole finished the
two day event in as time of 2:30:54 over a minute ahead of Byron
Rugomoka / Hakim Mawanda (Mitsubishi EvoX) the reigning national
champion. Before his victory, his best finish in Pearl was third behind
Kenyan Jaspret Chatthe (Evo X) and Des Kananura (Subaru N14) in
2015.
The 2020/21 national rally champion said: "It's a great pleasure and
excitement winning POAUR which comes with its challenge. This is just
the beginning of yet another exciting season. Good enough every one
tested the hardness of pearl and who ever finished is a victor."
Kikankane, 49, is one of the driver with the largest rally fans followers
underlined his intention on day one moving into third position after
opening three sections ( 52.70km) behind Yasin Nasser/ Ali Katumba
(Ford Fiesta R5) and Jas Mangat/ Joseph Kamya (Evo X) respectively.
By end of Day, he was leading after the Nasser and Mangat
encountered mechanical problem. "Day two was all about
concentration to finish," he elaborated.
Kikankane, first bust on the rally scene during the Pearl Rally in 2011
but failed to finish but following Pearl rally win and third place finish in
Mbarara Rally early this year, he moves into second place in NRC with
173pts 25 behind leader Nasser.
Rugomoka who made his Pearl Rally debut in 2017, has continued to
rise following his NRC triumph last season. Last year he finished 6 th and
his second place will boast his chances of retaining the NRC title. He is
third with 160 pts.
Nasser who finished third overall nine minutes behind Kikankane, is still
in running for both ARC and NRC title. He leads both championships
with 54 and 198 points respectively. Hassan Alwi winner of Pearl in
2016, came forth over 14 minutes behind the winner while Mangat last
year's champions will have to wait for another year to record his thread
pearl win. The event which attracted 32 cars had a total of 494.21km of
which 205.27km spread over 12 competitive sections.